Local Businesses
Here are links to our friends and local businesses
We are very pleased with their services and hope you will be too!

Howard County Plumbing Service
Bryan Stauch President/Owner
Phone: 443-695-2246
Email: hcplumbingservice@gmail.com
Website: www.hcplumber.com
Shannon Baum Signs & Graphics
No job too big or too small – vehicle lettering, custom signs, banners, design services, and much, much more. Denise has made our vehicles moving billboards.
105 Competitive Goals Drive. Eldersburg, MD 21784
Phone: 410-781-4000 or 1-800-368-2295
Email: sign@shannonbaum.com
Website: www.shannonbaum.com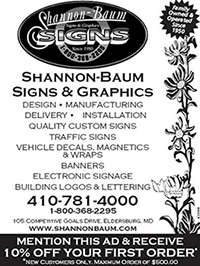 Meineke Car Care Center
Jason and his great staff, keeps the Salerno's fleet running!
1233 Liberty Rd. Eldersburg, MD 21784
Phone: 410-795-1077
Email: shop.670@meineke.net
Website: www.meineke.com
Document Mill, LLC.
Shredding services that can't be beat! The Rogers do a great job of disposing of our sensitive documents- great prices and service.
Phone: 410-404-8810
Email: customerservice@documentmill.com
Website: www.documentmill.com
Sunscape Deck Builders, LLC.
Call Tony and let him help you ADD Value and beautify your home.
Phone: 410-596-7367
Website: www.sunscapedecks.com
John S. Wilson Lumber